NuShine IIF7

HEAVY OXIDATION & SCRATCH REPAIR
Utilized in a multi-step procedure on clad, cast or forged aluminum, nickel, stainless steel, etc.
AVAILABILITY: 1/4 lb., 1/2 lb., 1 lb., 10 lb., 50 lb sizes
DIRECTIONS FOR USE:
Apply sparingly. Polish with tufted wool compounding pad on a circular buffer (1600-2000 rpm).

Polish until oxidation and residue disappear, about 60 seconds. 

Repeat if oxidation cloudiness remains. Badly deteriorated surfaces may call for NUSHINE IIF9.

Final finish with NUSHINE IIS.
Not recommended for clear coated finishes.
TEST REFERENCES: 
AMS1650
D6-17487
CSD1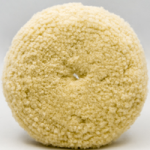 SWITCH IT UP 
The Importance of Changing your Wool-Compounding Pad
How you use your equipment is just as, if not more, important than having the right equipment. READ MORE
Keep in mind:
When using any NUVITE product, please refer to appropriate procedures and recommendations for use and equipment, or contact a NUVITE technician for more information, unique applications and special requirements. Product dilutions are determined by extent, condition & soil type.