NuGlaze
PAINT SEALANT & POLISH
APPLY – DRY – BUFF. High gloss shield and UV protectant. For new or excellent condition paint surfaces. Creates an easy to clean surface, repelling bugs, stains, soil, oil & carbon. Use on oxidized paint after preparation with NuPol or NuPower II. 
AVAILABILITY: quart, gallon, 5 gallon sizes
APPLICATION:
1. Apply NUGLAZE "as is" onto a terry cloth towel.
2. DO NOT DILUTE.
3. Apply thinly and uniformly over surface. Wipe area until material appears to be removed. 
4. Allow to cure until completely dry.
5. Hand buff with cotton flannel detailing cloth for extreme gloss.
CERTIFICATIONS: 
AMS1650
D6-17487
CSD1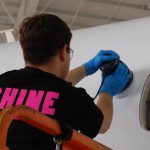 WHAT'S YOUR ANGLE?
The Importance of Buffer Position on Painted Surface Finishes.
The product you choose and the equipment you use are critical to the polishing process, but technique is the surest way to achieve a SHOWROOM SHINE. READ MORE
Keep in mind: When using any NUVITE product, please refer to appropriate procedures and recommendations for use and equipment, or contact a NUVITE technician for more information, unique applications and special requirements. *Product dilutions are determined by extent, condition & soil type.