NuPol
WATERLESS, HEAVY-DUTY DRYWASH
Removes stubborn carbon, dirt, stains, oil & moderate oxidation on painted substrates. Provides UV protection & restores gloss to oxidized paint.
AVAILABILITY: quart, gallon, 5 gallon, 55 gallon sizes
DIRECTIONS FOR USE:
Apply NUPOL "as is" with a terry cloth towel, pad or mop head.

DO NOT DILUTE.

Agitate aggressively & uniformly over surface, spreading material to very thin layer. Work small areas for best results.

Allow to completely dry.

Using a clean towel or mophead, buff for slick high shine.

Follow regular routines maintenance program with NuPower II & NuGlaze.
TEST REFERENCES: 
AMS1650C
AMS1530B
AMS1531C
AMS1532C
D6-17487
CSD1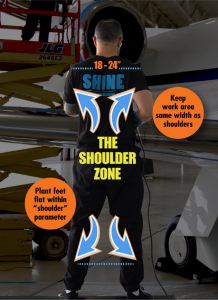 Keep work area same width as shoulders, approximately 18″-24″.
Plant feet flat on the ground also within the "shoulder" parameter.
Never buff below the belt, meaning no bending to meet lower levels.
Best to be eye level with buffer.
*Product dilutions are determined by extent, condition & soil type. 
Disclaimer:
When using any NUVITE product, please refer to appropriate procedures and recommendations for use and equipment, or contact a NUVITE technician for more information, unique applications and special requirements.