NuImage
CLEANER & DEBUGGER FOR
POLISHED METAL
Removes dried on bugs, cleans oil, carbon and grime and retains polished appearance. 
pint, quart, gallon, 5 gallon, 55 gallon sizes
DIRECTIONS FOR USE:
Apply "as is" (do not dilute) to a terry cloth towel. Dried bugs can be safely loosened by allowing them to liquefy before rubbing. Keep surface wet with material until bugs are removed. When fully dry, clean with a cotton towel or flannel cloth on polished metal. 
TEST REFERENCES:
D6-17487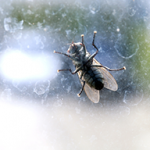 DON'T BUG ME.
Removing dried-on insects.
Bugs are unavoidable, especially at lower altitudes. The messy splatter they make at takeoff and landing sticks to the surface throughout the flight. READ MORE
Keep in mind:
When using any NUVITE product, please refer to appropriate procedures and recommendations for use and equipment, or contact a NUVITE technician for more information, unique applications and special requirements. Product dilutions are determined by extent, condition & soil type.