20/20 Swipe
SPRAY ON WIPE OFF PLASTIC CLEANER & POLISH 
To clean windows/windshields on aircrafts, automotive, boats, RVs & other plastic surfaces
100% Abrasive free

Non-hazing

Non-static

Non-toxic

Non-glaring

Non-yellowing

Non-flammable
AVAILABILITY: 24 Ounce aerosol, 1 Gallon
APPLICATION:
WINDOWS & OTHER TRANSPARENT PLASTIC MATERIAL
1. Remove any excess dirt and soil from area first before use.
2. Shake well.
3. Spray generous amount of 20/20 Swipe on material to be cleaned.
4. Wipe off with clean, soft, dry cloth.
5. Use another clean, soft, dry cloth to bring plaster to a high luster.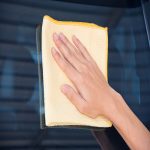 PLASTIC CLEANER & POLISHER
A polish created for aircraft plastic windows.
20/20 SWIPE Cleaner & Plastic Polish is a favorite of helicopter pilots, boaters and motorcyclists. Its easy spray on / wipe off application quickly wipes away oil, removes grease and soil as well as bird droppings and insect carcasses. What's left is a streak free, clear surface. It cleans without scratching and therefore will not affect painted surfaces.
Polishing frequently with 20/20 SWIPE provides other benefits also.. Besides protecting from hazing as a result of UV light and discoloration, it also deposits an anti-static barrier. Even more, prohibits dust, ash, lint, and other atmospheric particulates from clinging to the plastic surface.
Keep in mind: When using any NUVITE product, please refer to appropriate procedures and recommendations for use and equipment, or contact a NUVITE technician for more information, unique applications and special requirements. *Product dilutions are determined by extent, condition & soil type.